3 August 2017
Beamex Oy Ab increases its presence in Germany by acquiring Germex GmbH.
Beamex, one of the world's leading providers of calibration solutions, has acquired Germex GmbH incorporating Germex as its new subsidiary in Germany. The new subsidiary, named Beamex GmbH, will strengthen Beamex's presence and ensure continued high-quality customer service to Beamex's users in Germany.
"We consider Germany as one of the most important markets for calibration equipment, software and systems in Europe and in the world", Jan-Henrik Svensson, CEO of Beamex Group, explains and adds "Germany enjoys a leading position in security solutions and business enterprise software and boasts an enviable engineering reputation, process instrumentation and embedded systems know-how. Many of the Fortune 500 global companies are headquartered out of Germany making Germany one of the most significant countries in the world with all our focus industry segments well represented. Supporting these companies in streamlining their calibrations processes, both in Germany as well as throughout their global operations, requires in-depth cooperation with Beamex. It makes absolute sense for us to be present directly in this market".
Beamex has been providing calibration equipment, software and systems for customers in Germany for decades together with a long term Premium Business Partner, Germex GmbH, and has already established a strong market presence in the country. With this new subsidiary, the goal is to increase Beamex's market shares and improve the experience of German customers by bringing new products and business concepts and continuing the very highest level of customer support.
"We have considered ourselves as part of the Beamex family during the last 25 years, so actually joining the Beamex Team is a very logical step. A loop gets closed and I´m sure our German customers will benefit from the continuity of the old
Germex team now being part of the Beamex group. I´d also like to take this opportunity and give very special thanks to the Germex Team and my father Heinz Hoster without whom Germex would never been founded. It´s been an interesting journey so far and I´m really excited about our future together." says Ralph Hoster, previous owner of Germex GmbH.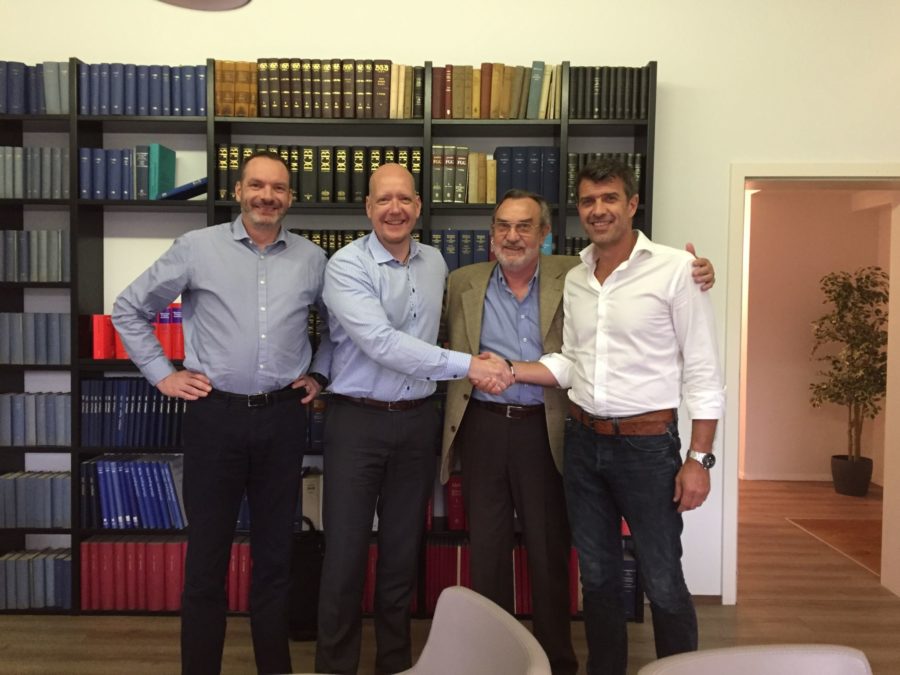 Starting a new chapter in Beamex's history in Germany
From left to right: Alex Maxfield (Managing Director, Beamex GmbH, and VP Sales & Marketing, Beamex Oy Ab), Jan-Henrik Svensson (CEO, Beamex Oy Ab), Heinz Hoster (Founder and former owner, Germex GmbH) and Ralph Hoster (Managing Director and former owner, Germex GmbH, now
Key Account Director, Beamex GmbH).

About Beamex:
BEAMEX is a leading worldwide provider of calibration solutions with the sole purpose to create better ways to calibrate for the global process industry. Beamex offers a comprehensive range of products and services — from portable calibrators
to workstations, calibration accessories, calibration software, industry-specific solutions and professional services. Through Beamex's subsidiaries, branch offices and an extensive network of independent distributors, their products and services
are available in more than 80 countries. Beamex has more than 12,000 customers worldwide.
For more information, please contact:
Jan-Henrik Svensson
CEO
Beamex Group
Tel: +358 40 5066063
Email: jan-henrik.svensson@beamex.com
Ralph Hoster
Key Account Director
(Owner of Germex GmbH)
Tel: +49 2181 211644
Email: ralph.hoster@beamex.com