October, 2021
Beamex introduces the Beamex ePG electrical pressure generator – a unique approach to portable automatic pressure calibration.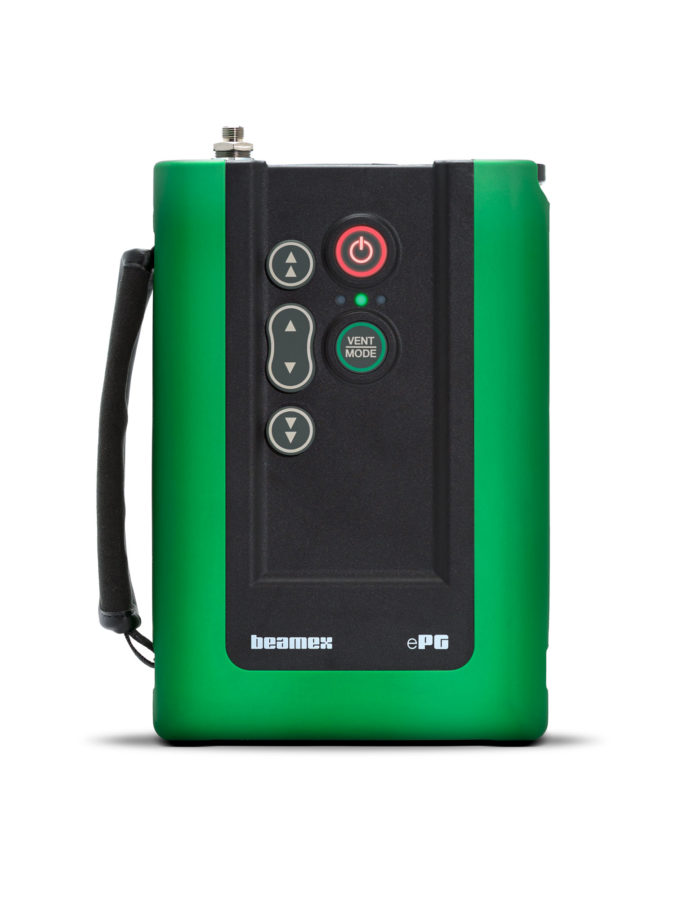 Beamex has expanded their successful PG pump family with the Beamex ePG, a revolutionary new electrical pressure pump for industrial pressure calibration applications. The Beamex ePG continues the company's mission to provide better ways to calibrate for the industry, based on over 40 years experience of providing solutions for pressure calibration.
The Beamex ePG is a robust, portable battery-operated pressure pump that enables easy and quick pressure generation from near vacuum up to 20 bar (300 psi). With a field-replaceable, long-lasting battery pack, users can perform a large number of pressure calibrations on a single charge.
The Beamex ePG can be used together with any existing pressure calibrator, meaning users do not need to buy a new calibrator but can simply replace their manual hand pump with the ePG. It is very intuitive to use, with coarse and fine adjustment buttons to easily generate the required pressure. The Beamex ePG can also be serviced by the user to simplify maintenance.
When the Beamex ePG is used together with the Beamex MC6 family of calibrators, it enables fully automatic pressure calibration where the MC6 calibrator automatically controls the ePG. This optional feature will be available in the near future with a firmware update to the Beamex ePG.
"Calibrations in the process industry are often performed in the field, and typically a manual hand pump is used for pressure generation. But a manual hand pump is laborious to use, especially if you need to do several calibrations or pump a higher pressure," says Antti Mäkynen, Product Manager at Beamex. "Based on requests from our customers for easier pressure calibrations, we developed a new technology that enabled the creation of the Beamex ePG."
For more information about the Beamex ePG, please visit the product page at https://www.beamex.com/calibrators/beamex-epg/
Media contact for more information on this release:
Mona-Lisa Grannas
Marketing Director
Mob: +358 400 709 571
mona-lisa.grannas@beamex.com
All Beamex releases are available here.
About Beamex:
BEAMEX is a leading worldwide provider of calibration solutions with the sole purpose of creating better ways to calibrate for the global process industry. Beamex offers a comprehensive range of products and services — from field calibrators to workshop calibration, calibration accessories, calibration software, industry-specific solutions, and professional services. Through Beamex's subsidiaries, branch offices, and an extensive network of independent distributors, their products and services are available in more than 80 countries. Beamex has more than 12,000 customers worldwide.