Data is today's gold. Data based decisions should be the core of every business. Same goes for calibrations. Making strategic decisions based on data is a reliable and an efficient process. By analyzing your calibration data you will get a quick overview of all your calibrations. Do you know how well utilized your reference standards and modules are? Are the calibration intervals really optimized and how easily available are your calibration data for audits?
Beamex software data can be transferred into the Power BI analytics tool, in order to make all your calibrations visible. The reports can be easily accessed, filtered and adapted according to your specific needs. Harnessing the full potential of the calibration data will make your decision making easy. It doesn't matter whether you are a Director, Manager, Auditor, Technician or Engineer, you will all benefit from having the correct data for your daily work.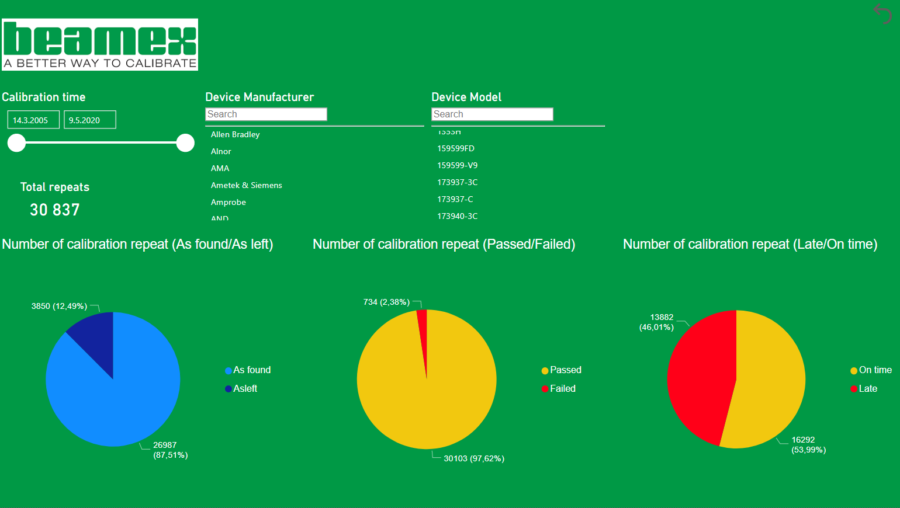 Why use calibration dashboards?
Quick access to your needed data and KPI's
Data can easily be filtered according to your needs
Easy way of getting insights
All crucial calibration data in one place
Detect potential risks/problems
You can access calibration history and predict trends
Optimize your calibration interval
Predict how an instrument will drift
Schedule your work and your personnel resources
Click on the button to play around with our calibration data solution! Have an overview, test how you can filter in order to receive specific data. The testing is free. If you are interested in buying, please contact us and we'll discuss an offer that would suit your needs!