June 2020
A major update to the Beamex subscription-based calibration software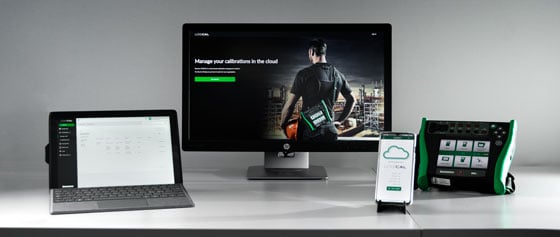 Beamex introduces a significant milestone in the development of LOGiCAL, a cloud-based Software as a Service (SaaS) calibration execution platform. The latest release of LOGiCAL features new functionality for the management of LOGiCAL accounts and users, the creation of plant structure and instruments for calibration, the management of calibration references and the storage of calibration results.
"LOGiCAL continues to support mobile calibration execution using the Beamex range of documenting calibrators, such as: the Beamex MC2, MC4, MC6, MC6-Ex, MC6-WS, the recently launched MC6-T temperature calibrator. For those customers who wish to use LOGiCAL with their existing references; LOGiCAL also supports the bMobile tablet or smartphone application. Beamex has been producing and developing calibration equipment for more than 40 years and calibration software for over 20; Beamex LOGiCAL is the latest generation of calibration software", Product Manager Antti Mäkynen describes.
"To start using LOGiCAL, all you need to do is to visit the Beamex LOGiCAL website and navigate from there to register. After the registration, you can select your SaaS subscription plan and purchase calibration credits to start working in a truly pay-per-use environment. LOGiCAL purchase plans have been designed to allow a scalable cost of executing calibrations, starting with a very low-cost monthly fee allowing the smallest of companies to benefit from a digitalized paperless calibration environment", LOGiCAL Commercialisation Manager Jonas Heinola adds.
The LOGiCAL cloud communicates with calibrators and tablets allowing for seamless movement between on-line and off-line environments, enabling a digital calibration process, even when there is no access to the internet. LOGiCAL uses web service technologies enabling calibrations to be configured and performed using any device with a web browser connected to the internet. LOGiCAL is compatible with most browsers such as: Chrome, Internet Explorer or Safari. LOGiCAL will be initially launched with an English language user interface, additional languages will be added later in 2020.
"We are excited to bring a truly revolutionary technology to the market that delivers a very high value to customers that today use pen and paper or manual processes for calibration. LOGiCAL makes it easy and inexpensive for everyone to take their first steps towards a streamlined and digitalized calibration process" says Jan-Henrik Svensson, CEO of Beamex Group.
Beamex continues to develop its market leading CMX calibration software; an excellent choice for even the most demanding and regulated companies.
LOGiCAL – Calibrations made simply, logical!
Visit the LOGiCAL product page
About Beamex:
BEAMEX is a leading worldwide provider of calibration solutions with the sole purpose to create better ways to calibrate for the global process industry. Beamex offers a comprehensive range of products and services — from portable calibrators to workstations, calibration accessories, calibration software, industry-specific solutions and professional services. Through Beamex's subsidiaries, branch offices and an extensive network of independent distributors, their products and services are available in more than 80 countries. Beamex has more than 12,000 customers worldwide.